As promised, here's a rundown of what's what with my projects...
Super Seed
The

"Blood Thinning"

storyline is currently running over at the website. Read it again, or for the first time! www.superseedcomic.com
All three issues of

Super Seed

are still being sold over at IndyPlanet.com. If you haven't picked up print copies yet, check them out. Here are links to

Super Seed #1

,

Super Seed #2

and

Super Seed #3

.
Super Seed continues to resonate with the public! I moved a lot of books at the

Boston Zine Fair

last month, more than I had hoped. I've got another appearance coming up, so hopefully I'll push a few more.

Still not in a position to give any indication about when readers can expect to see the next arc, "Surrogate." I'm afraid I've been awful busy getting my other projects off the ground, and having a ton of fun with them, but I won't be abandoning my baby, not to worry.
CounterTERROR
Not a whole lot new to report, seeing as I've been lacing this board with

CT

previews lately.

What I can say is that I have eight completely finished pages and a pitching document that I'm using to try to find a publisher. I'm optimistic I'll have something secured within the next two months.


CT

artist

Stefano Cardoselli

is hard at work on some of his other projects, but I'm hoping to keep him warm with a few other

CT

art requests in the meantime.
I've included another sneak peak image in this update.
Tears of the Dragon
I've received this week the initial batch of inked pages from

Koko Amboro

, who is doing really nice work on this project. Wait till you see page 8!
In talks now, trying to nail down a color artist for this project. If any readers are interested, send me an email at

superseedcomic@gmail.com

.
Here's a look at Koko's pencils: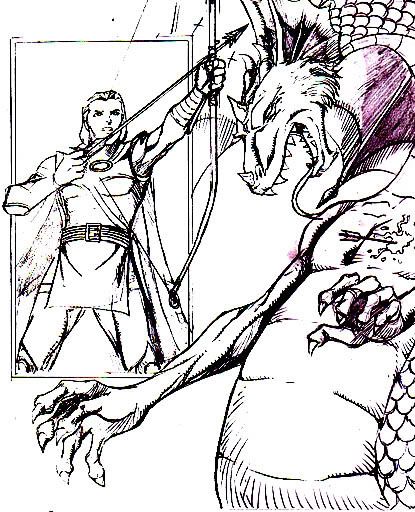 ICE: Interrogation Control Element
Damian Couceiro

has finished penciling five pages of CT so far, and they're looking great.

As you can see from the image posted here, Damian has a strong grasp of facial expressions and is an accomplished draftsman and very strong artist.
Creating Comics! Class
Underway and in full swing as of this past Tuesday. It's going to be a good six weeks! I have a small, eclectic group of comic enthusiasts who are all interested in learning more about writing for sequential art. I think we're all going to learn a lot.
I've also been approached about adapting the class to a younger audience, and do a six week, one hour class as a part of a local after-school program early next year. While I have yet to commit, given my background (I used to teach elementary school) and the fact that I first started getting into comics as a kid and know I would have loved a class like this, make it a hard offer to refuse. So I'm sure you'll be hearing more about this in the future.

That's pretty much it for an update. One problem I don't have is keeping busy.